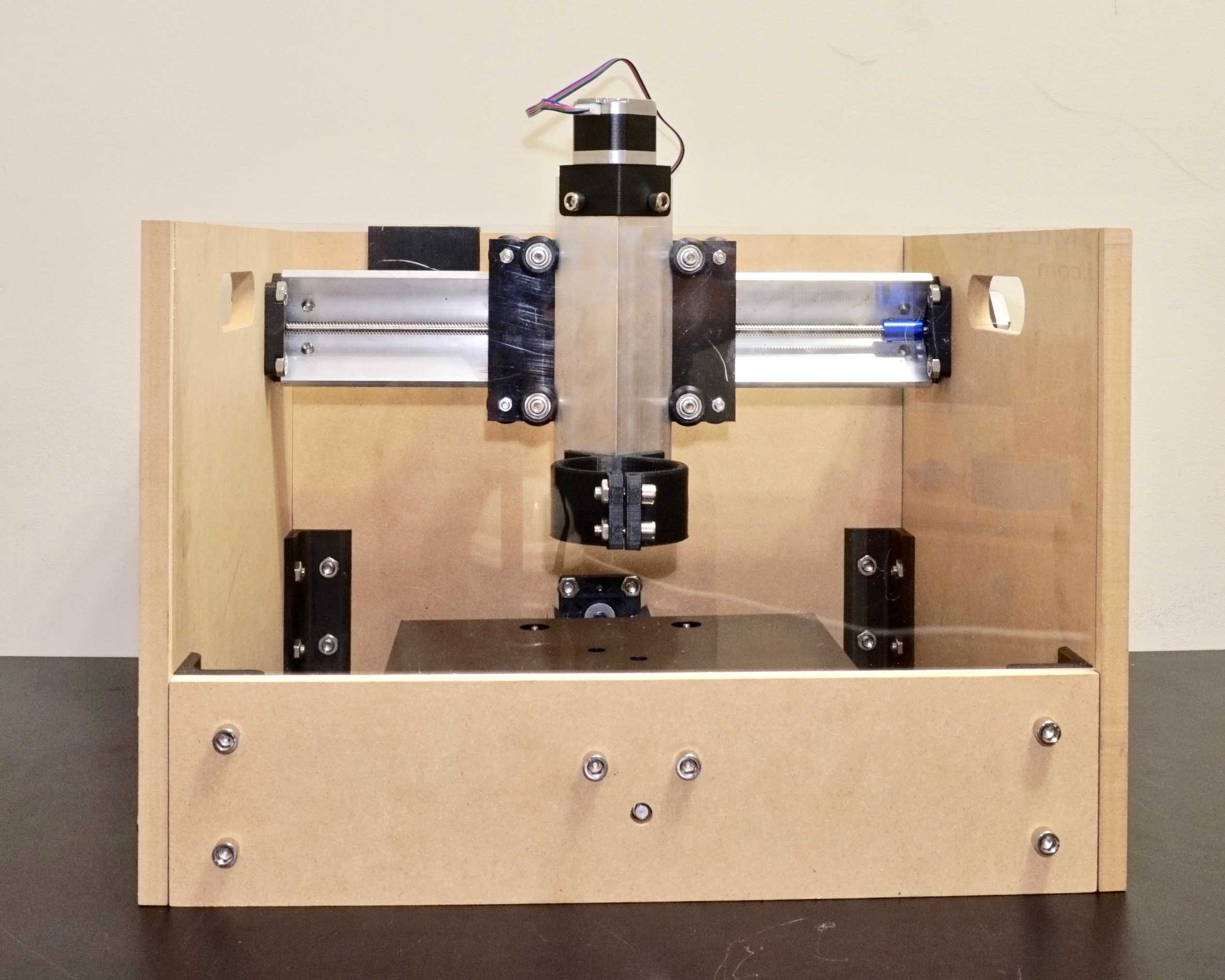 A little over a month ago I received a package in the mail I have wanted for a long time. Sienci labs sent me their Mill One for review. Before we go any farther, yes this is a review sample but that does not affect how I go about evaluating a machine. One way or another you guys will get an honest review. The good thing here is I get to give an honest review about a great product. It works out of the box exactly as it is supposed to. Assembly is easy, I mean put together in less than an hour easy. I have assembled a lot of machines, not just 3D printers either. You could say I have experience that makes it easy but that's just it even well made 3D printer kits usually take more time than this to assemble.
Compare that to a delta printer I bought months ago. Made by a company most of you will know. I am still fighting to get even a benchy to print. You can understand why I enjoyed this build. I did my homework on them before they sent the machine, to see what other customers had to say about everything from shipping to everyday usage. No one had anything negative to say Some people less familiar with CNC machines had a couple hiccups here and there but nothing that was the machines fault.
---
The Devil is in the Details for Sienci
Overall my first impressions were very positive. Even the way it is packaged put some other manufacturers to shame. My delta arrived in a box with minimal shipping protection and terrible packaging. The hardware was all packed in one bag. I had to spend at least an hour organizing the nuts and bolts. Sienci's machine, however, is packaged like they were shipping Faberge eggs. Very easy to understand labeling and more. I know some of you are thinking it was because this is a model sent for review, but I have asked around, and the packaging is par for the course. A rep later contacted me from Sienci and he shared new packaging pics that show that they went even farther to make sure everything arrives as it should. I'm a little jealous of their new customers. Pics below.
---
The Sienci Mill One Kit
What's in it? The kit come with 3 stepper motors, 3 lead screws, 3 rails, 4 panels, 1 acrylic sheet, 1 bed an arduino and a grbl board with stepper drivers and all the mounting hardware needed. No tools are sent aside from a small allen wrench for grub screws so you will need to provide your own tools but it's only a couple tools needed. If you watch the video I share below it will tell you what you need. Now here is where you have to make a choice, though you can order it without a router. Don't do that. It will add about 100$ more to the price but it is well worth it.
They will also send you a bracket for whatever router you plan to use (if you make sure to let them know when you order the machine) but save yourself the trouble if you don't own one, just order the makita router with it. I had a cheap router I thought would be fine and while it is ok, I ordered a makita to replace it with. If you have a router you're welcome to use it but I strongly suggest just paying a little more and get a makita. Do not use a harbor freight POS. I'm cheap don't be like me.
---
Building the Mill One
As stated above the assembly is damn close to lego easy. Tab A slot B etc. This is where I would have a build guide or I would explain that a build guide will be coming soon but once again sienci beat me to the punch. They have a complete video series on their website/youtube channel ready to go. I have no doubt that a first time builder could assemble the machine off the videos they have in place. In lieu of a build guide, I will Link to their youtube channel below.
[embedyt] https://www.youtube.com/embed?listType=playlist&list=PLE43LQy2a1irDdNc4_Fz251hJ3srmfyB8&v=t5qDvDFpf3w[/embedyt]
---
Firmware and Software
[embedyt] https://www.youtube.com/watch?v=wYr3DWGXiFc[/embedyt]
Once again Sienci has you covered on both fronts with everything needed to install and use it. They link to plenty of options for Cam software and Gcode senders. I started with kiri and the first cut was the CNsheep (video below) The cam software worked great and universal gcode sender or ugs worked without any hiccups. I have Fusion 360 though with very powerful built in cam software and if you have that I recommend you use that over kiri If only because you can get more from your CNC with it. Kiri gets the job done just as well and it's free. The choice is yours.
---
Sienci Vs other machines
[embedyt] https://www.youtube.com/watch?v=L5aGWY7KThk[/embedyt]
I see a lot of companies popping up in the desktop CNC world. Just like 3d printing, CNC machines are becoming cheaper and more available to the modern maker. As such your going to see options that are cheaper and options that are more expensive. Everything cheaper than this machine is not going to be very good. They packed a lot of power into this package. The rails don't flex the lead screws are straight and the machine can be packed into the smallest of work areas (if you could see my work area right now…).
On the other end of the spectrum spending more doesn't really get you more a lot of the time. It's a case of doing your homework and seeing what works for you but every other solution out there up to $1500 is just this machine with maybe a larger build volume or custom software. Maybe a few bells and whistles like a z prob or a high-speed spindle. If it uses a router at its base and you pay $1500 you're overpaying and not getting much. But hey, brand names are still popular for a reason. The Sienci Mill One is a machine that gives you everything possible for every dollar spent. From fast Shipping to the first cut. Therefor plan to buy at least 1 more in a near future. Also, please stay tuned for my upcoming long term impressions review.
---
Area's for improvement
[embedyt] https://www.youtube.com/watch?v=cHbWmoMG7ns[/embedyt]
Let's make one thing clear I have to nitpick to find much I don't like about this machine. I do have some things that I would like to see in the future even if it's a package that adds to the cost. We will start at the bed. Your cutting area isn't much more than a 3d printer for me that isn't an issue but for you, it might be. What I really want is a bed with built-in clamping. You can machine the existing bed to fit your needs but I would prefer a ready to go option in this case.
A basic tool kit would be nice. I have plenty of tools but some of you might not (you should).
A dust shield on the top would make it easier to use in a small office.
---
My list of Recommended Endmills
They supply you with enough to start but It would be nice to remove more material or to cut aluminum easier. I have ordered a few different endmills and some router bits to get the jobs done. Here are a few suggestions.
Last bit I would suggest but certainly important is a plainer bit. If you face your blanks you will get better end results.
---
Final thoughts about The Sienci Mill One
Overall I am very happy with my machine. I've made some mistakes and broke a couple bits, but that is because I was trying to see what would break and how far I could push this little machine. It wouldn't break and I tried. I forced it to cut aluminum I used feed rates that stressed the bits. I pressed it to do things it didn't like and it only broke the bits. For someone looking for a good entry level, CNC and they don't want to do more than assemble it and go this is the machine for you.