13 Best CAD Programs for Kids
Surprising how many CAD programs there out there right now, right? Most I have never heard of but I trust each one has fervent users that will tell us how well their modeling skills were corresponded by the software, besides how easy (or difficult) would be for a child getting used to. Read on about Cad Programs For Kids.
While on the subject, I believe everyone possesses amazing skills to develop. Some of the skills I'm talking about should be built up since an early age, when your creativity is on top of your brain and have the time to 'play' with it with not many responsibilities around. Thinking about the positive results over time, there have been launched different CAD programs for kids, where little thinkers can create, revise and express their ideas in 2D, and why not? Export them as 3D printable models like everyone else involved in 3dprinting, just having in mind all objects need support on overhanging parts to be 3D printed. 13 of these CAD programs are gonna be quickly described and listed in popularity order, although rating qualities are up to other facts, such as age range, availability, and intuitiveness.
Advantages and disadvantages plus a little information come with each CAD here so you can easily recognize which one goes the best for your creativity. I had to turn my attention into community's thoughts based on their experience then I could give a reliable opinion on each program.
Actually many of these might be familiar to you as you might had already worked with them, and if you go through you will realize not all of them were intended to be used by children in first place but its fast interface familiarization and manageable tools –which is one of the most valuables qualities when a fast done work is needed– put them here:
1.-
Level: Beginner
A totally intuitive free software with simple but quite powerful tools, then any child or noobie in 3D design can feel like he/she rocks at modeling!
Tinkercad is a good option to start in the world of 3D design. Works full from a web browser, which can turn into a disadvantage when you don't have internet access, but thoughts on the CAD still positive: Most users agree that its interface gets super intuitive and children quickly understand how to use it (The UX designers did a good job). With a few hours of dedication on the tutorials and practice, it will be more than enough to extract all the advantages this software can offer you.
On the other hand, a limiting fact on Tinkercad designs could be the one related to the modification of the mesh; you only can model pieces making use of previous designs in the CAD. Characters modeling on Tinkercad is not often recommended either.
2.-
Level: Beginner
Solidworks is a great 3D modeling software in itself, but certainly not easy to be learned and used and if you are lucky to master it you will have a great tool in your hands.
Then, what if, we simplified the tools in order to make the software suitable for kids and beginners? Solidworks Apps for kids is the answer: a web application that provides six internal apps to make more logical the experience and increase the creativity of kids with easy and intuitive tools.
Each icon is an app
Only circumstantial disadvantage could be the need of total internet access to get work from the apps
For now, the product hasn't been released, so it's unknown the payment method, but you can subscribe in beta and be one of the firsts to try it.
3.-
Level: Medium-Advanced
*Being discontinued this year to merge it with Fusion 360

Part of the powerful Autodesk family, 123 Design is a useful and kind of simple 3D creation and editing tool which supports numerous 3D printers recently released. Desktop application, if you decide to work on both Tinkercad or Autodesk 123D Design you'll see the interface is very similar (they both are owned by the same company).
But this software, in particular, provides whole new tools that can take even more advantage of your 3D modeling skills than using Tinkercad. one of the most interesting sections is the "Browse models and Tools", means you are able to see all the projects the community is working on if they keep it public, download and modify it and then send it right to 3D print on your own machine or a Dremel printer by Autodesk.
The main problem about 123D Design is not as easy as it sounds, it can be a little tricky to work if you are a beginner 3d modeler, you will need a few training hours and patience to start making things with this software.
*Another suggestion from community is try to not save your files to the cloud at all since it takes more time than expected and files get often crash.
In order to simplify Autodesk portfolio, this app will be shut down this 2017, meaning 123D will no longer be developed or supportted after March 31 but don't worry, if you have any of the phone, tablet or desktop versions of you'll still be able to use it.
4.-
Level: Beginner
Described as "The easiest way to create in 3D… and the most fun!", 3D Slash is a 3D modeling 'like a building game' program; yes, its interface was created to look like a game while it has 3D designing missions instead. Works both online and offline, this means you can work through even when you do not count on internet Access. The app allows you to import designs from the web, which is pretty good too.
With educational purposes, teachers affirm 7th graders need "little to no guidance once they have the basics" as it gets very intuitive and user-friendly, therefore kids love it.
Within the peculiarities describing this CAD are the building game interface, the chance of sculpts shapes using an image or a photograph, and the view on VR mode, and both web and downloadable desktop version.
Another good thing around 3D Slash customizer, which allows you take STL. files directly from Thingiverse browser and simplify the model to remove some material, make a print faster and cheaper.
This is a very cool way for children and non-experts to design 3D models in general, though.
5.-
Level: Beginner
Created specifically for K-8 Schools to begin with the art of 3D modeling, this 3D printing learning program focuses on teaching by interactive challenges, alternating academic training and practical learning. Contains several tools to deepen 3D design that doesn't require CAD, and, what I think is even more original is that it's really school oriented, so their learning programs includes school license and lesson plans aligned to the American and Australian curriculums. On the other hand, their prices are less accessible than other 3D modeling software in this list and that's not such as convenient fact.

Although you can go for a Free individual license, you would be able to design in 3D with only one of six modules. A school license is $2,499AUD a year (GST not included) and there are also other good options of 3D printing solutions that basically contain Teachers' dashboard for the management of children works and weekly data analytics to track your students' progress and engagement.
Teachers who have implemented Makers Empire in the classroom say their students have achieved modeling really complicated designs that require a lot of manipulation of the features.
6.-
Level: Beginners (game).
Blokify is a 3D modeling app aimed at children who like to create toys or want to play in virtual stage and then take it to a physical stage by 3D printing. Basically a Mobile app for Apple and Android that I bet your child will love: First of all, modeling with Blokify is extremely simple since it uses
the basis of Minecraft building method. Using cubes you can create almost any object free-form or take a guided building lesson, which makes it quite simple. You can export it directly to a 3D printer to increase the fun and share the creations on Facebook, Email or community within the app and see other friend's models.
The application costs $4USD or so, a minimum investment for your child to keep entertained for a while.
However, if you're looking for a professional modeling tool Blokify is not for you. I consider this app more game-oriented as it was developed to be a Minecraft-style app, the modeling is limited to the blocks themselves, we could not model cylindrical things or give special finishing details with the mesh.
7.-
Level: Advanced
Fusion 360 is a new Autodesk application that promises enough. For me I think it is the most complete 3D modeling platform until now. Certainly, not for children, is aimed at grown students, experimented hobbiests and professionals at the industry more than artists. But is a good next step for your child to grow professionally in the world of 3D modeling!
The application is oriented to product development in a cloud platform (Cloud-based platform) that works on both Mac and PC and you can best collaborate with others to facilitate or speed work. Multiplatform to work on any mobile device.
360 is a tool that will give a lot of talks.
What I like most, is 360 allows you to simulate any design to see if it works, this in 3D printing is important if you are making tools or designing mechanism for a project.
Experienced users also commented serious RAM power is required to run Fusion 360 effectively, while others suggested keep open only necessary files so you won't have any serious problem with crashes.
8.-
Level: Beginner
There is a reason why Sketchup is such a well-known and popular program, it's because it really is simple to use, you just draw lines to create the plane of a figure and then extract them to create the surfaces. It really makes 3D modeling so simple.
It contains the usual, a database of 3D models for you to edit, a nice interface easy to use and even has extensions so you can customize your Sketchup to make life simpler.
What I say really makes Sketchup a good program, is the ease of being able to convert a draw into a 3D model. Layout Sketchup Pro allows you to add model views to pages, adjust scales, as well as adding thicknesses and dimensions.
You can download it to your computer without any problems and start working.
Of course Sketchup only problem is rendering since everything seems to be a cartoon, but if you just want to model a simple piece to be able to print in 3D I do not think you'll find any problems.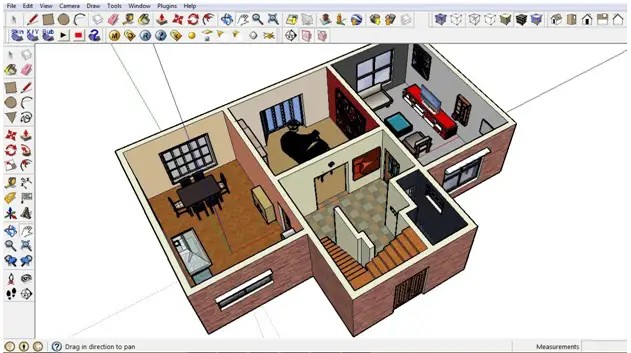 9.-
Level: Medium
Sculptris is like the light version of Zbrush itself, despite the fact that is Not educational-oriented, its main feature is to be as accessible as possible for any artist. The interface is as simple as possible and every tool is within reach (that's a good thing) in order to quickly introduce artists to 3D modeling.
Best thing about Sculptris is the compatibility with Zbrush, since it allows mesh importing to Zbrush to give it a better finish with its tools. Simply select "GoZ" button in the app and you'll be able to give your creations better details.
The navigation of Sculptris comes with two methods for your comfort, the first one is used by default in Sculptris and the other comes with navigation controls in Zbrush.
Sculptris could be your next step to take advantage of the skills you previously acquired in other 3D modeling software.
10.-
Level: Begginer
ONSHAPE (Full-Cloud CAD)
Oshape is a CAD designed specifically to work in four different groups and levels: from professional design teams and enterprise organizations to students and educators, so in this last makes easier to introduce the whole Class in 3D Modeling stuff, where students can work in teams and together edit models simultaneously (even remotely) with the certainty that Onshape will keep a complete history of changes and there are no restrictions on the number of documents created. Teachers can distribute projects, review them and easily give feedback.

What is even better is that all you need to start using it is create an Education account to login since it's totally free! and no need to acquire a school-owned license, neither IT support; consequently, Onshape runs in a web browser and runs on any device with no setup.
Only things against Onshape is it does not run at all on Internet Explorer, so if your school's computers only have Internet Explorer, you will have to talk to IT. You also must be a current faculty member, school volunteer or a student pursuing a degree, diploma or certificate at an accredited educational institution to be able to use Onshape's free Educational Plan. If you are a student, then you must be at least 13 years of age.
11.-
Level: Depends on your programming skills
A 3D modeling free software and available for Linux/UNIX, MS Windows, and Mac OSX. Unlike most of free 3D modeling Software (such as blender) OpenScad doesn't have an interface for artistic aspects instead you have a 3D compiler that reads scripts of files that describes the object and render it's in a 3D model form, in other words, you don't model your pieces, you program it.
OpenSCAD provides two main modeling techniques: First there is constructive solid geometry (aka CSG) and second there is an extrusion of 2D outlines. As data exchange format for this 2D outlines Autocad DXF files are used. In addition to 2D paths for extrusion, it is also possible to read design parameters from DXF files. Besides DXF files OpenSCAD can read and create 3D models in the STL and OFF file formats.
12.-
Level: Beginner
In the other hand, LeoCad was designed for new users who wants to start creating new models with an intuitive interface it save's learning time on the application. At the same time, it has a rich feature set, enabling experienced users to build models using more advanced techniques. With Native versions for Windows, Linux, and OSX, Users will be pleased with these program interfaces
LeoCAD is Open Source so anyone can contribute with fixes and features, and it's always going to remain free.
13. MAYA By Autodesk
Level: Advanced
Maya by Autodesk is perfectly for a construction of characters, creating movies or animations, with a powerful motor graphics. Used by large companies on entertainment Maya is one of the biggest software for 3D modeling.
At first, it can be quite intimidating since it has a lot of tools that can make you feel really lost, but once you got the trick I can assure you it's going to be amazing.
Users can define a virtual space for work (scene) there you can implement and edit media of a particular project. It has a lot of formats, the default .mb (Maya D) exposes a node graph architecture.
And that CAD program is the last one for now!
The thing I liked the most about each CAD and 3D modeling Software is the fact that all of them have improved the way we do modeling, making it way easier than years ago when we needed multiple tools and plenty of patience and time to create a single thing now can take less time.