3DPrinted Musical Instruments – Let's start a band?
3DPrinting is a revolutionary technology where in my opinion your imagination is the limit. In this world, one of the things that you can print is musical instruments. So I searched around on my favorites repositories of models and made this list for you.
Well, of course, it would have a flute model. The most traditional instrument of all history(I think). None information about the program used to model it.
Why not? All Zelda and Link fans could print one and play… On the beginning of this year, I went to an event where I saw a guy to play this. It's so awesome! Sadly the author didn't give any information on wich software was used to model it.
Balalaika is a Russian instrument with a triangular body and three strings. This is the first time that I see this instrument because in Brazil Balalaika is known like a cheap drink with cheap Vodka called… Balalaika!
This model has no info on what software was modeled it. =/
Let's hear a song from it?
MyMiniFactory always surprising me with this kind of well-designed model. This guitar looks awesome!
Francesco used Autodesk Inventor to model the base and ZBrush to do the sculpting part. On the link you find the complete tutorial to build one.
Conor O'Kane was the author of this model and didn't say which program he used to model it.  You can print it in any FDM printer with a bed with 20cm of size. On the link, you can find all the information needed to print and assemble one of these!
Damn it, found the author of this model playing Game Of Thrones Theme!!!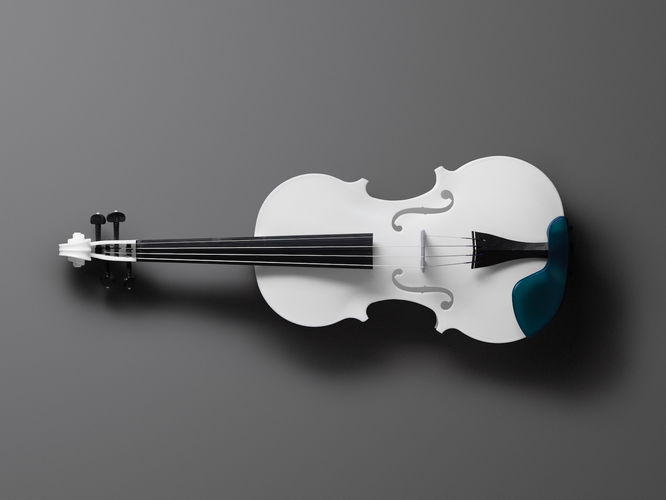 This model created by 'bchan' is based on a Stradivarius Violin. He uses OnShape to model it. OnShape is a CAD program that you run on your browser, and is open source! This model was printed in a FormLabs printer, and apparently not yet tested on FDM printers. But the above result looks gorgeous!
The guy, Francesco, modeled this body using ZBrush and took inspiration "of the nature in particular from animals as symbols of power: lion, shark, and eagle. Air, ground, and sea all together in the same piece".
Do you have more models that I would like to see and add it to this list? Let me know in the comments below!