Here is a short summary of 3D-Printing News I bet you wouldn't want to miss!
A lot of news related to 3D Printing comes out everyday. Most of them are good news (though there are bad days too); The thing is that, at least for me, it is hard to keep up with all of the releasings and developments. So this time I decided to do something unusual for 3dprinterchat and just put a variety of interesting news in a single post. Nasa's Jet Propulsion Laboratory unveiled its 3D printed metal fabrics; meanwhile, Klöckner & Co just made a Strategic Investment in BigRep. In addition, A Hospital in Montour County is tapping the potential of 3D printing for clinical studies and more.
1.- Nasa's Jet propulsion Laboratory (JPL) is developing 3D printed metal fabrics
Nasa's latest 3D printing development could have many applications in orbit. Raul Polit-Casillas, a systems engineer at JPL, is leading a team to develop a qualified material space fabrics to create durable and strong astronaut spacesuits or shields for spacecraft.
These metal fabrics are 3D printed as a single piece thanks to an Additive Manufacturing process; Polit-Casillas admits he even calls '4D printing' to the fabrics manufacturing process, as they can print both the geometry and function at once.
"If 20th Century manufacturing was driven by mass production, then this is the mass production of functions."
For NASA, multi-function space fabrics also cut costs in development while improving quality and functionality. Given the lack of resources in space, 3D Printing metal fabrics could give more autonomy to astronauts when they're in orbit. Who knows? Maybe one day astronauts will recycle materials and 3D print them into new tools as needed.
For now, these 3D printed space fabrics have four Main functions. These are reflectivity, foldability, tensile strength and passive heat management.
Source: NASA.
---
2.- BigRep receives Strategic Investment from Klöckner & Co
Steel and metal product producer and distributor Klöckner & Co is looking for digitalization in the steel industry; Proof of this is a recent investment via its venture capital subsidiary kloeckner.v to tech startup BigRep. This last will soon close its international Series B financing round.
Klöckner & Co currently supplies over 130,000 customers in diverse industries. Alongside the financial investment, it will begin using BigRep's industrial 3D printers in its large US and European site network. This market segment looks pretty promising as it is expected to reach an annual growth rate of around 20% by 2020.
Likewise, BigRep's goal is to become a leading global supplier of additive manufacturing systems within the next five years. René Gurka, BigRep CEO next words are clear.
"Together with Klöckner & Co as our strategic partner, we aim to exploit this trend as we move forward."
Read more about the announcement here.
---
3.- 3D Printing for Replication of Body parts
A Hospital in Montour County is tapping the potential of 3D printing for clinical studies.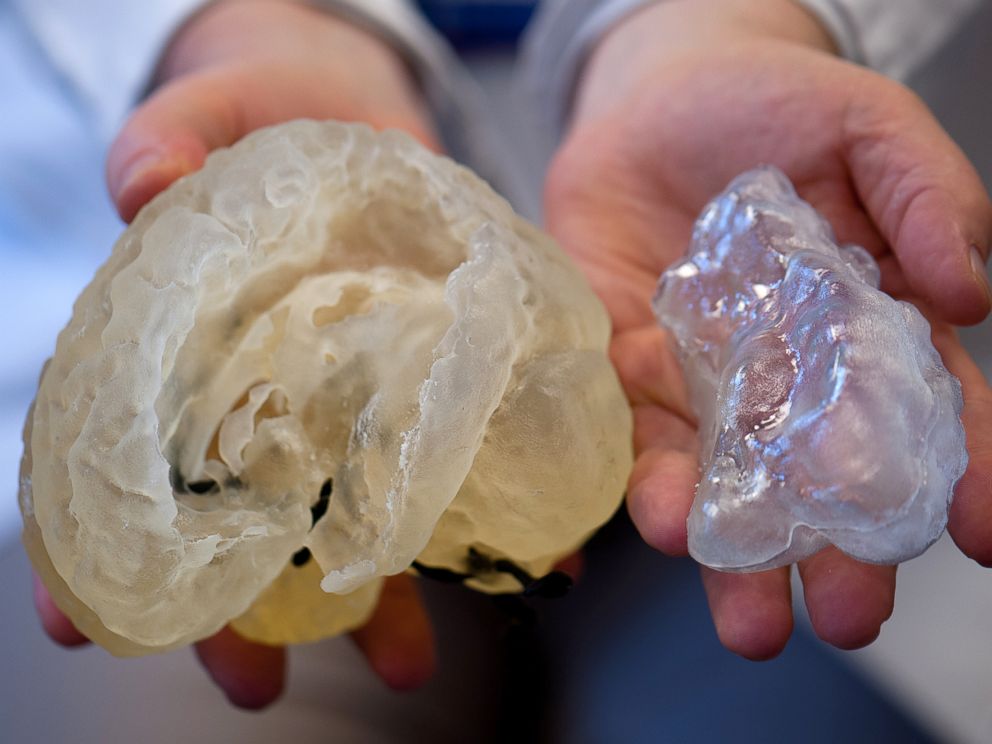 3D printers and 3D Scanners are together a powerful KIT of creation. Particularly in the medical field, these tools are indispensable in the study of organs and body parts.
Dr. Sarkar is a respected surgeon in the neurology department at Geisinger Medical Center. He operates brains with diseases like epilepsy or Parkinson. More recently, Dr. Sarkar is about to operate Alexis Middleton; Alexis, age 26, is a woman who has been having seizures for 10 years now.
"Her seizures are very disabling. They just come upon her. They can make her fall. She has broken bones. It's something that disrupts her life." Explains Dr. Sarkar.
In order to prepare for her upcoming surgery, Dr. Sarkar consulted the team at the 3D lab. The team helped creating two replicas of the brain of Alexis, one flexible and the other resistant; the process firstly involved scanning Alexis' brain. Following, they 3D printed replicas at about 70% of the real size. Now doctors use the replicas to study the case and be able to figuring out a detailed plan before the real surgery.
"What the 3D Printing has enabled us to visualize the problem and therefore the solution". Dr. Atom Sarkar Added.
Hopefully, Alexis will be able to marry her fiancé and live a normal life in the future.
Read the complete article here.
---
4.- A new 3D Printing method to print Shape-Shifting objects
Researchers from Singapore University of Technology and Design (SUTD), in collaboration with Georgia Institute of Technology, have recently developed a new method to 3D print shape-shifting objects.
We can call 4D printing with SMP's to a 3D printing integration with different materials that can change their form through environmental stimulus, such as heat. Martin L. Dunn, and Zhen Ding's team used a composite consisting of glassy shape and elastomer. They also integrated a programming step into their printing process by controlling the photopolymerization step during printing.
With this new method, the researchers believe 4D structures can improve printing time and saving material up to 90%. This is a promising method for creating 4D structures on the medical field, as well as aerospace and consumer products like packing materials.
Source: ScienceDaily.
---
5.- Airbus successfully tests metal 3D printing of aircraft controlling components
Liebherr, a mechanical engineering company for aerospace, 3D printed a controlling part of an A380 aircraft. The hydraulic valve was developed in collaboration with Airbus, a French aerospace manufacturer, and the Chammitz University of Technology in Germany.
Due to the success of the 3D printed valve block, Liebherr is already working on the next generation of hydraulic system using additive manufacturing.
"We still have quite a way to go until we can introduce 3D printing technology on a broad scale in the aerospace industry. All parts of the process chain – from the powder material, over the laser parameters, the post processing, up to the final product – need to be optimized in order to improve stability, maturity, and economic efficiency. Nevertheless, the potential and vision of 3D printing will change the way future aircraft generations will be developed".
Said Heiko Lütjens, Managing Director & CTO Flight Control and Actuation Systems at Liebherr-Aerospace & Transportation SAS. You can read a more detailed article here too.
Stay updated with 3dprinterchat, More news coming up soon!
Guardar