Have you ever guessed what future tastes like,
or the way we'll feed few years later? Well, thanks to Antony Dobrzensky, Marcio Barradas and a group of many other techs and food experts you could have a very futurist variety course meal just around the corner! Best part? yes, 3D-printers and augmented reality are totally involved in this unique concept of cuisine, better known as FoodInk
FoodInk
It all started when the company 3D by Flow, with the purpose of producing a 3D printer with easily exchangeable extruders as well as available to use readily accessible materials created Focus: the first multi-material 3D printer -which as its description indicates- make it possible to print with over 20 different materials everywhere you take it. The perfect clue to knew there was no better way to prove Focus than using amounts of natural fresh ingredients to create unique dishes just arrived last April 12th, when the team of Dutch 3D-printer innovators, in collaboration with some of the best chefs in Europe like the legendary Chef Joel Castanye, served to some special guests a five-course meal during the 3D Food Printing  Conference at Villa Flora in Venlo, the Netherlands; according to the many positive comments from guests and onlookers resulted in a tremendous success!
But, what does exactly attribute FoodInk as "one-of-a-kind gourmet experience" as the founders affirm?  in spite of the fact that these are not the first 3D printed meals 'cooked' in the entire world (there already exist succulent 3D printed Chocolate for instance) their healthy molecular gastronomy menu developed in collaboration with 3D Samba offers the innovator concept of having the perfect amount of proteins and vitamins your body needs now merged in every 3D printed entree you try –then you can forget about the suffering that comes to your mouth when mama forces you eating all those fruits and vegetables in their natural boring forms– either getting typical dishes of the most popular cultures reinvented to look like futuristic but also keeping its original essence, creating the most exquisitely delicious gourmet food: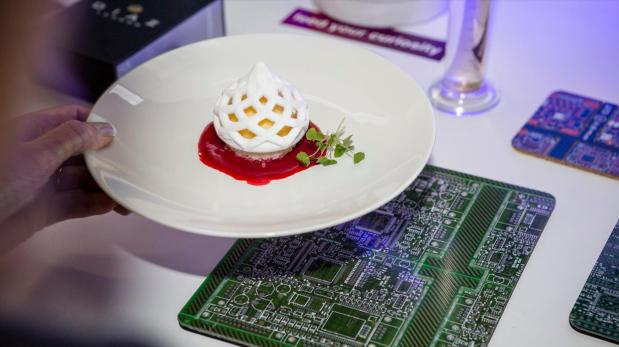 Other reason FoodInk is taking such as huge popularity among any other restaurant is thefact that not only gathers the finest Chefs but also Architects, Engineers, Artists, Designers, Futurists, Industrials, Inventors, and Technologists from all over the world, self-denominated as "an eclectic, futuristic and creative group of experts".
A clear example of the concept shown above  is the exceptional 3D-printed jewelry gifts given by the contemporaneous company Diaz London; FoodInk Stylish 3D-Printed Cutlery Series designed by Polish artist Iwona Lisiecka and 3D-printed by Barcelona-based BCN3D Technologies on their astounding Sigma machines, as well as the 3D-printed furniture such as tables, lamps and chairs produced by Mamou-Mani Architects, who also introduce some exclusive pieces like 'The Smoke Stool', a custom made using open-source Grasshopper plug-in Silkworm (plus letting it available as a Kickstarter bonus to sponsors of an awesome project for the legendary Burning Man) where dinner guests will seat to enjoy the music and visual spectacle provided by a team of filmmakers in order to ensure an exclusive mixture of art, food, philosophy, and technology.
"The restaurant design is intended to show the present and the future blurring and dissolving in our midst, just as science fiction and reality often blurs. We're trying to provide, quite literally, a taste of the future"
Food made of hummus, chocolate mousse, smashed peas, goat cheese or pizza dough (basically anything able to take the consistency of a paste) then extruders can be fed to create culinary sculptures completed by many other cooking techniques afterward. Moreover, the new concept of a pop-up gourmet restaurant has become even more original since it allows the chefs to use 3D printers in front of customers, which means interaction in real time between feeding and technology, two of the most essential ways human beings differentiate from other species.
FoodInk will set up on three consecutive evenings at 8 Dray Walk in Shoreditch, London from 25 to 27 July, where a nine-course 3D printed dinner will be served and live streamed online, but it does not stop there! this project is also playing an awesome world tour through cities like Berlin, Dubai, Seoul, Rome, Tel Aviv, Barcelona, Paris, Amsterdam, Toronto, NYC, Taipei, Las Vegas, Sao Paolo, Tokyo, Austin, Singapore, Los Angeles, Cape Town, Sydney and Reykjavik, hence you can book a seat in the culinary hotspot that better fits you at Eventbrite.com
In my opinion, food has always had the undeniable ability to connect us through generations highlighting our primal human need to cook, besides, the cooking techniques we use to nourish ourselves still in essence being the same we have used since the fire's discovering; there are many facts to think 3D printing technologies are not only causing a direct repercussion in the stuff we do and the way we live, but now it seems like is also giving a guideline to a new generation of cooking.
And if you're still not sure enough just take a look to the video and share your opinion with us!
[youtube id="UWOVvSfSjCM" width="600″ height="350″ autoplay="no" api_params="" class=""]