What 3D-Printer to buy 2016
We have a lot of options these days. Companies left and right are popping up with their own take on 3D printers. Figuring out what is good and what is bad can be pretty difficult. Then you add budget into the mix and you can really get confused. Then if you want to buy a 3D printer,  it might only be as hard as what brand do you trust. Or what gives you the options you're looking for. For those of you still can't decide what you want or are unsure what to get,  here are my choices for 2016.
Airwolf3d AXIOME DIRECT DRIVE – Buy a 3D Printer
This is about, as high end you can get for a desktop. It has everything you would want. A large print area, auto bed leveling, enclosed build area and it can print with just about every plastic out there. If you are looking for something that will just work this is your machine. The only downside is the price. Coming in at 3,195.00 USD it's the most expensive system on this list. It is worth every penny,  though.
Pros
Build volume

Customer support

Speed

Direct Drive

Inclosed build space
Cons
RAISE3D N2 FFF  – Buy a 3D Printer
Another contender in the High-End category Is the N2. Right off the bat,  this is easy to see why it's a good competitor for the Airwolf machine. It offers everything the Airwolf does and adds just a bit more. you get a 7″ full-color touch display,  A very easy Print Resume option so even black-outs won't affect you. At 2,499.00 USD It's priced to easily compete with any other printer on the market.
Pro
Build volume

Customer support

Speed

Direct Drive

Inclosed build space

Larger touch screen

Print Resume *
Cons
Community

Price

Ease of setup
Ultimaker 2 Go – Buy a 3D Printer
This is just about one of the most popular 3d printer manufacturers these days. If someone isn't talking about buying one they are comparing a printer to them. The Go is there lower cost version It offers a smaller overall package but still packs in everything you like about an Ultimaker. At 1199.00 USD this is the most affordable of the top end machines. If you want high quality but want to save some money for filament this is the printer for you. It is a smaller print area with a small 120mmX120mmX115mm build area but that doesn't stop it from producing very high-quality prints.
Pros
Community

Ease of use

Precision

Customer support
Cons
Price

Connectivity

Build Volume
Original Prusa i3 MK2 kit – Buy a 3D Printer
It just wouldn't seem right to make a 3d printer buyer's guide and leave out the Prusa. These are my go to printer They are affordable, reliable (if you don't by a clone) and for the most part the 3d printer most people think of when they talk about 3d printers. The MK2 is no slouch either it offers a full E3d v6 nozzle and a respectable build volume of 250 x 210 x 200 mm The Prusa community is huge so you have plenty of help should you need it. It does suffer from lack of enclosed build space and other issues that Prusa's tend to have but at 699.00 USD It offers a lot of bang for the buck.
Pros
Open source

Community

Price
Cons
Build quality

Precision

Ease of use
Monoprice MP Select Mini  – Buy a 3D Printer
Getting into the budget 3d printer section the Monoprice mini isn't a bad idea for an office desk or a teaching lab. If you are looking to outfit a class with a few 3d printers this might be a good choice for you. It's ready to go right out of the box so you don't need to fuss with it. Just slice a model and print. It's small and not very fast but for an entry-level machine,  it's not a bad choice.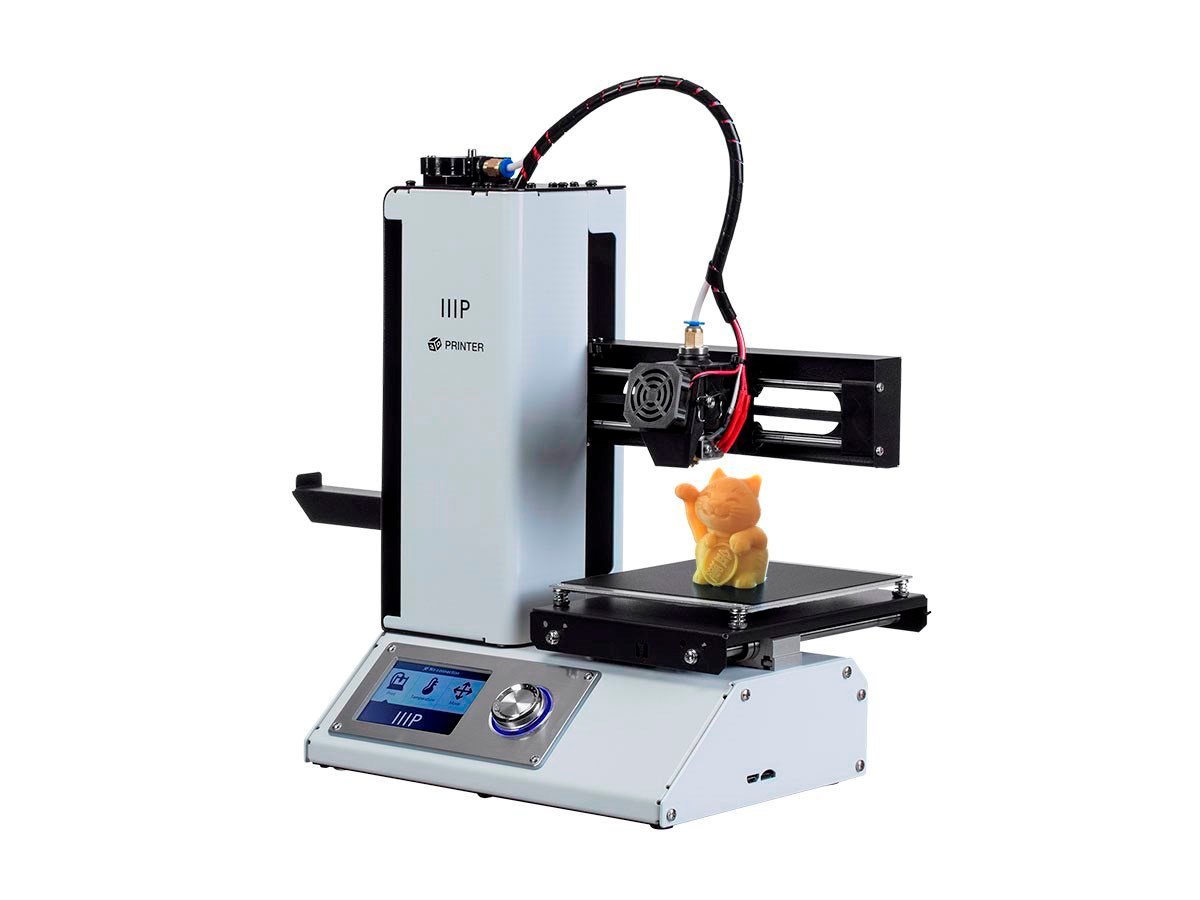 Pros
Price

Print quality

Ease of use
Cons
Build volume

Community

Software
https://www.youtube.com/watch?v=GhoQDb1MYdI
HobbyKing Fabrikator Mini V1.5 – Buy a 3D Printer
This is about as "Budget" as it Gets. At 177.71 USD you get a working 3d printer. The major upside is the parts you get for the money. It will get the job done but the MKS base board allows you to use this printer to make everything you need to build a larger and possibly better printer. It will do some alright prints but this is at most a gateway Printer. If you buy one you'll get some fun out of it but it will just leave you wanting more. For me, it's a parts deal. Buy one print the parts needed to make a better printer and build that. You could use it for education as well but as more of and engineering lesson not a tool to allow your students to print their models. They are currently on back order though so it might be hard to get one.
Pros
Price

Parts for next printer

Footprint
Cons
Construction

Cooling

Heated bed