Save any of these models to 3D print later and upgrade your gaming sessions.
1. Xbox One controller mini wheel
Model file by Brent Scott
Rack and pinion steering for your xbox controller! Download the 3D printable model HERE.
100 degrees of rotation. Enjoy finer control in racing games. It's going to feel strange in the beginning because you probably have hundreds of hours driving with just the stick. Just give it time to create new muscle memory 🙂
Driving demo: https://youtu.be/Zgiul4cFMUw
There's also a version of the 3D printed controller mini wheel for each PlayStation 3 & 4 controller .
Nintendo Switch its's a pretty cool game system console, I enjoy playing Zelda breath of the wild for hours. But you know what's the worst part of playing it? Drink Pauses. Call me a lazy girl, but Imagine this: I´m playing against Ganondorf with a high focused level and suddendly I need to pause. NO!
THOSE TIMES ARE OVER!
Now whit the Joy-Con drink holder, all your gaming/drinking worries are a think of the past! Download it HERE.
3. Dual XBOX Controller stand
Designed by TheFallenElectron
Get the free model HERE.
Why buying a XBOX controller Stand when you can 3D print as many as you need? Even if our room is a mess, (I'm not speaking for every, one of course) our game room can be always organized.
Also the model is not a problem, you can put any XBOX Controller on it!
4. Customize your Controller XBOX Controller – Xbox 360 ABXY Custom Controller Buttons
A model file by gamerguy51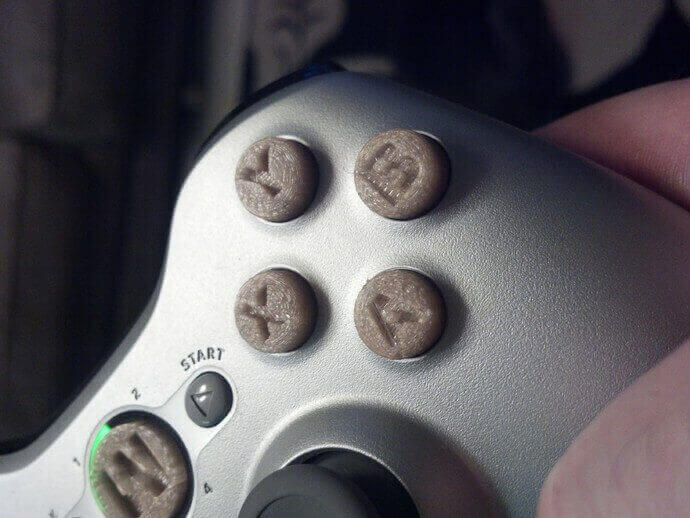 You can find the printable model HERE.
Why should you have to live with what you're given? After years of playing, you might be bored of having the same old colours on your Xbox controller. Print out your own xbox controller buttons in your favorite color!
The secret after printing is a quick dunk in acetone or a little buffing to smooth out the top. Or better yet use some sugru to fill the letters and ad some color! This easy print will allow you to have an interesting change.
5. Gamer Headphone Stand
Created by James Lutzke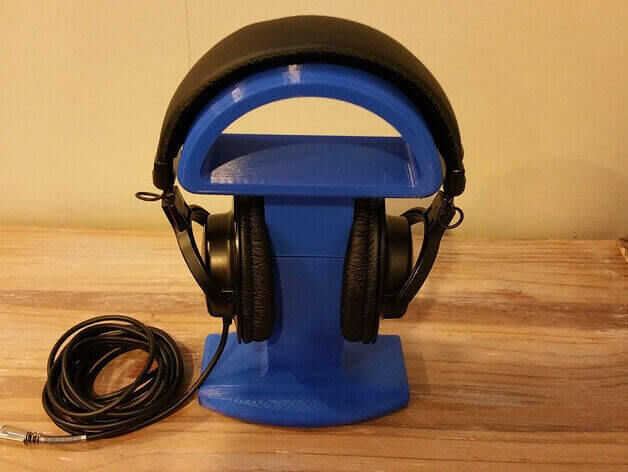 A simple add-on to 3D print. A stand for our gaming headphones can help us keeping them close for the gaming night sessions.
Download it HERE.
6) Thumbstick Caps for PS4 Controllers
Created by Filip Gielen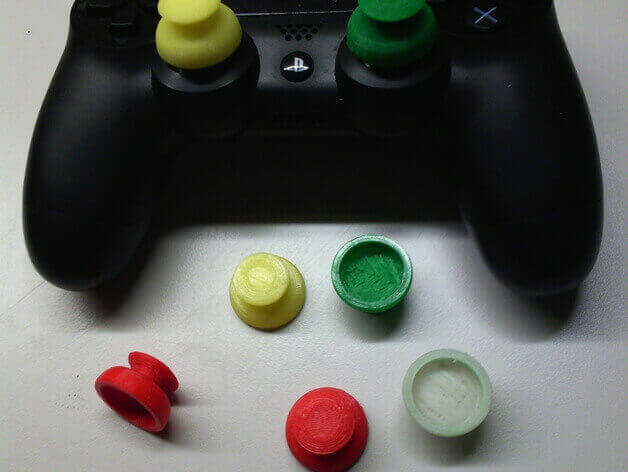 Download it HERE.
Thumbstick caps are the first parts damaged over time, even they make your controller look pretty boring. Whit this desing you can add some colour to your PS4 Controller and with a little of redesing you can make some spare parts. 
7) PS4 Remote Stand
Made by:João Duarte 
We already have a Xbox controller Stand but what for Playstation 4?  Every PS$ gamer knows those controllers manage to get lost in the most impossible palces. However whit this Remote Stand, you'll always have your controllers near to your console. 
8) PS4 DualShock Lock
Made by: Juan Antonio Siles Sanchez
Keep away your mom from this post. Is your child spending too much time playing and not enough on homework? You might find this thumbstick lock for disabling DualShock 4 controllers quite useful.
9) PlayStation VR (PSVR) Stand
Made by: hachi roku
PlayStation VR Bundle is a lot of fun, but it can also be an awfully messy to live with. Cables everywhere, and the headset itself doesn't lie comfortably in any living arrangement. This PS4 accessory can be the solution. 
Download it HERE.
10) PS4 Gamepad Smart Clip (for Samsung Galaxy S4 Mini)
Designed by:Jakub Maksymilian Fober
This is an easy skeletal desing to 3D print. PS4 mods like this will let you take your PlayStation controller on the road as a Bluetooth controller for smartphone games.
Download it HERE.
Want more free models to 3D print? Look at these useful Free Back to School items to 3D print!